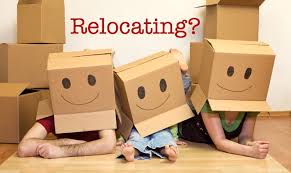 Relocating to a new city can be an overwhelming task. Ideally you'd take several trips to your new city to get to know the place and find out exactly where you want to live. Realistically, though, that probably won't happen. Our lives are busy and money is limited. To help guide you through the relocation process, save you time and money, we've put together this step by step guide to relocating to the North of Boston Area.
Step 1: Research North of Boston Towns and Neighborhoods
For people who are getting relocated with a company, this part is a bit easier because you know where you'll work and can focus your search around neighborhoods with an acceptable commute. Traffic is definitely a factor when commuting to Boston but check out the Waze App to help determine average commute times between two locations
If you're moving to the Boston area without a job, or can work from home, or just have the flexibility to choose exactly where you want to live, that can be a monumental task as the Boston area is huge. The good news? The towns North of Boston are different in terms of amenities, look and feel. Usually people are drawn to one area over the others, so it makes the choice easy.
How to Research: Visit the area info/town tidbit section of our website to help you drill down further.
Step 2: Contact a local North of Boston Realtor
An local Realtor who is knowledgeable about the real estate market, neighborhoods and relocation process can save you a lot of time right off the bat. We work with people who are several months away from their move and help them narrow down their search criteria so they don't spend weeks they don't have focusing on places they aren't going to like when they see it in person. If you give us an idea of what you're looking for (price range, type/size of house, company/industry you work in (to help us narrow down geography), where you're coming from, and any other pertinent info), we can recommend areas you can start your search.
Remember, working with a local Realtor costs buyers nothing! Our fee is paid by the seller. So, there is really no reason not to reach out. Scared of getting pressured or hundreds of emails asking you when you're ready to buy? You don't have to worry about that with us. We'll move as fast as you want to move and act as a resource, not a nuisance.
To get started, head our website to understand who we are and how we can help you during this transition. Have a question or prefer to speak to someone? Email us at info@FarrellyRealty.com or call us at (978) 664-3700. We would love to hear from you!
Step 3: Get Pre-Approved by an Local North of Boston Mortgage Broker
This is the step most people miss. If you need to get a loan to purchase a home North of Boston, you should talk to an local mortgage broker early in the process. One of the big myths we hear is getting pre-approved too early will hurt your credit. That's simply not true. The credit monitoring bureaus understand finding a house can take months. A good mortgage broker can help you determine the best loan program for your situation and help you determine how best to approach the home buying process during your move (there are certain rules you need to follow, or your loan will be denied). They can also explain local property taxes and HOA dues and how they impact what you can afford.
We have a couple of great mortgage brokers we can refer you to. Check out our preferred vendors list on our website or simply email us at info@FarrellyRealty.com. We are also available by phone, call us at (978) 664-3700 and we can get you their contact info.
Step 4: Prioritize Your Housing Wants and Needs
Once you know exactly how much you can afford, it's time to prioritize what's important to you in terms of the house you want to buy. Are schools important? Is commute time a factor? Can you afford homes you like where you are looking? Are you taking your long term needs into consideration? Do you want to be in a more urban or suburban area? Do you need to be able to walk to shops and restaurants?
These are just a few of the questions you should be asking yourself to help you determine what is most important in your house hunt. Sometimes these answers can help further narrow down areas of focus and will help you make the best home buying decision.
Need help determining your priorities? We can help you think through the process.
Step 5: Narrow Down North of Boston Neighborhoods
At this point, it is time to start narrowing down areas. This is a key step to get straight before you take a trip so you don't waste time on areas that just won't work for you. Make a list of the Top 5-10 neighborhoods from favorite to least favorite. Our recommendation would be to start exploring the neighborhoods you like most first. Then when you can't find something you like there, keep going down your list until you do.
Step 6 Get Set Up on an Email Home Search
Once you've come up with your top neighborhoods list, ask your Realtor to set you up on an email home search so you don't have to waste time searching every single day. We set up each neighborhood in a separate search so you don't get confused.
Ready for an email search? Email us at info@FarrellyRealty.com and we'll get it set up for you.
Step 7: Schedule a Neighborhood Scouting Trip
At this point, you probably have a good handle on which areas might work for you. Now, it's time to check them out in person. The goal of this first trip is simply to rule in or rule out neighborhoods, not to necessarily find a home. Driving through each neighborhood and looking at a few houses in your price range will give you a good indication whether or not you want to keep this neighborhood on the list, or if you want to rule it out completely.
This neighborhood scouting trip is a crucial part of the process and one that shouldn't be ignored. Investing a little time and money at this point in the process could mean the difference in liking or not liking the place you live.
Contact us to let us know when you're planning your trip. We'll show you around the area and help you narrow down your favorite neighborhoods. We take pride in North of Boston towns and would love to show them off to you!
Step 8: Don't Forget to Make Time for Exploring
Let's face it, looking at home and neighborhoods all day can get pretty exhausting. Make sure you carve out some time to visit some of our local attractions, eat at our great resturants, check out our local parks and enjoy driving just 17 miles and experience all that the city of Boston has to offer!. Doing something fun during your visit may help ease the stress of the move and help you realize the North of Boston area can be a great location for you.
Not sure what to do? Here is a list of the Top 10 Things to Do on Your First Visit to Boston.
Step 9: Finalize Your List of Favorite Neighborhoods
When you see the neighborhoods in person, you'll be surprised how easy this step becomes. Make notes while you are looking so you remember what is what. After looking at 20 homes in 8 neighborhoods, they start to run together, especially when you aren't familiar with the area.
Then, make a list of your favorites and have your Realtor adjust your home searches. With a picture of what each neighborhood looks like, you'll be able to focus on finding the home you like.
Step 10: Find a House and Move
Sounds easy, right? Though its not "easy" (especially not the actual moving part), we can help make the relocation process as easy as it can be. We will know many of the answers to the questions you have, even if you don't know to ask them. We are local experts so if you are considering a move to the North of Boston area, email us at info@FarrellyRealty.com or call us at (978) 664-3700, no matter how early in the process you are. We'll put together a tailored, step by step program designed for your specific move. We look forward to hearing from you!!