When it comes to home staging, the golden rule is make your space look bigger to would-be buyers. And perhaps nowhere is that concept more vitally important than in the living room — the place where homeowners tend to spend most of their time entertaining and relaxing, and where potential buyers will be placing extra scrutiny.
But you don't have to knock down walls or spend a small fortune to make your space look big. Fortunately, there are a few quick and relatively affordable ways to maximize your living room's first impression, even when the square footage is lacking.
1) Don't leave your living room empty
It might seem counterintuitive, but an empty room gives buyers no point of
reference for size. Staging rooms helps establish a room's size and enable a buyer to visualize how they can arrange their own furniture.
But don't just shove some furniture in the living room and call it a day. There's actually a science to arranging your stuff in a way that makes the room feel bigger.
Most buyers scan a room from left to right upon entry. If you place the tallest piece of furniture in the far left corner, the room will appear larger than if that same piece of furniture is closer to the entry. When a large or tall piece of furniture is near an entryway or door, it tricks the eye into thinking a space is smaller than it is, so keep taller items in corners -- or eliminate them altogether.
2) Carefully consider your seating scheme
Choose a focal point—a fireplace or windows with a view are the common choices, but yours may be a great piece of art or a family heirloom — and position your seating arrangement around it. Keep in mind that you want prospective buyers to imagine themselves actually living in and using your space, so your seating concept should encourage relaxation and conversation.
Living in the space also means carefully considering the circulation flow of your rooms. Make sure there aren't large pieces of furniture in walking paths.

3) Scale down your furniture
Even if it's high-end and tastefully decorated, you never want to fill your small space with a
truckload of huge stuff; you'll dwarf the space.
Choose smaller scale furniture to leave more white space, which will make the room seem larger. Select light pieces in materials like wicker or rattan (both of which are typically in high supply at retailers such as HomeGoods and Marshalls).
Beware not to go overboard with the tiny pieces. Too many can make a room look cluttered and therefore -- smaller. Less is more here, folks.
4) Build around your largest piece — and edit ruthlessly
Making the most of a small space can be difficult. Start by assessing the room for your largest piece (likely your sofa), and judge every other item in the room against it.
Ask yourself, "Does this item serve a purpose, either functional or decorative?" If you can't come up with an answer immediately, it's not worth keeping.
While you're at it, ditch bold, busy pieces of artwork for more neutral, unobtrusive prints, and get rid of the family photos on the mantel. Remember: The goal is for your space — not your stuff — to do the talking.
Pro stagers also nearly universally recommend ditching TV sets, which occupy a lot of visual real estate. The only exception? A wall-mounted, flat-screen TV that's appropriately sized to the room (that's the kicker).
5) Balance color
You don't need to slather your walls in an uninspiring, institution-evoking white.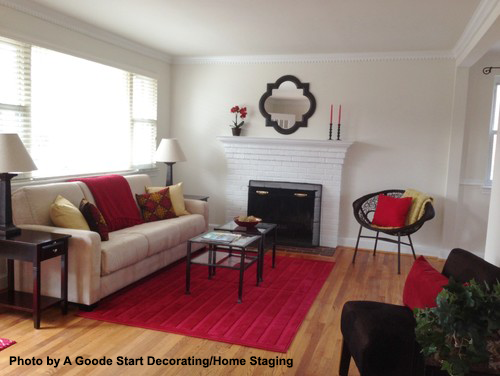 You can have some fun with color. But you'll need to follow some basic rules to avoid overwhelming the space.
First, and perhaps the most obvious, you'll want to nix dark or bold paint colors, which make cramped spaces feel tighter.
Brighter colors should be used in limited amounts and repeated for balance. If the rug is red and everything else in the room is various neutral shades, include red in the pillows or accessories.
For ceiling colors, choose a shade that's lighter than your walls to create the impression of openness. And for extra credit, match your wall color to larger (lighter-hued) pieces of furniture.
6) Choose the right materials
Choose furnishings and accent pieces crafted of materials like glass and metal, which reflect light and feel more airy. They give a greater sense of space than dark and bulky wood pieces.
Replace heavy bookshelves with floating shelves instead (like these from Ikea). Then, declutter their contents by at least 60%.
7) Lighten up
An abundance of natural light tricks the eye into thinking a space is larger. To maximize light, keep your window treatments minimal with a simple pleated shade for privacy. Choose lightweight, airy fabric curtains, such as voile or linen and mount the rod as close to the ceiling as possible to create the illusion of height.
If your rooms don't have a lot of natural light, hang mirrors to reflect the light you have.
When selling your home, first impressions are everything. Although staging can be tricky, when done right a small space can appear bigger and more appealing to prospective buyers.
Need help getting your home ready to sell? See our home selling tips or call us at 978 664-3700. We're happy to help.